Instagram Threads, the new social media platform on the block, is looking like a strong contender to be adopted as a new SEO hangout.
The social media space in the SEO community has seen a lot of disruption over the last year.
Twitter has always been a core favorite hangout until Elon Musk bought it, and many people began to ditch the platform.
Although Mastodon launched in 2016, suddenly, at the beginning of 2023, many SEOs saw it as a new Twitter alternative after renouncing the bird app.
Although promising initially, the decentralized platform has limitations in connecting with other servers, and establishing the SEO community was constrained as people were divided between different servers.
Then Bluesky came along – and yet again, SEO people waited to see if this would catch fire. As yet, apart from a few early adopters, it hasn't seen mass uptake or threatened the domination of other platforms.
For over a year, LinkedIn has been enjoying a resurgence with a lot of activity in the community. Many SEO pros historically vocal on Twitter have started posting long messages about case studies and thought leadership on the platform.
One positivo positive about being part of LinkedIn is the absence of politics, outrage, and snarkiness that is consuming Twitter.
LinkedIn is professional and a great platform to showcase what you are working on and share ideas about work.
And then, Instagram Threads launched on July 5 at 7:00 p.m. EDT.
It achieved 2 million sign-ups in the first 2 hours.
In 24 hours, it had 30 million. It took ChatGPT two months to get 100 million followers. Threads took five days.
It took Twitter two years to get one million followers; Instagram took two and a half months. Threads did this in less than an hour.
Will Threads manage to sustain and create a new SEO community? At this point, we can't say.
We jumped on the platform quickly within the first few days as it was launching and watched countless people we knew in the community come on board.
It has a fresh feel to it and was like a reunion of old friends together that hasn't been felt in some time. A buzz and vibe of excitement and interest felt like Twitter from many years ago.
For new users to a platform, one of the first things to do is follow people and build your follow list.
Threads doesn't currently support hashtags, so it's even more important to follow the right people to find the discussion you want to participate in.
For anyone in SEO, we've compiled a short list of SEO experts to follow on Threads to help get you started on the platform.
This list isn't intended to be exclusive, all-encompassing, or any statement about who is considered to be better than anyone else.
It's compiled from experts in SEO who are already active on Threads, and we included current Search Engine Journal authors.
An expert is someone who we consider to contribute significantly to the industry through social media and speaking, and through posting content that offers value.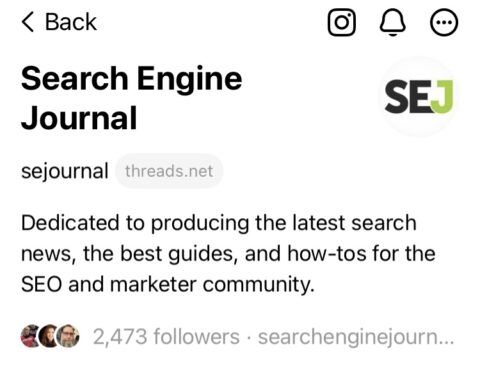 Search Engine Journal Team On Threads

62 SEO Experts To Follow On Threads
AJ Ghergich, SEO consultant.
AJ Kohn, Founder of Blind Five Year Old.
Aleyda Solís, International SEO Consultant.
Amanda Nacimiento, VP of Marketing at SparkToro.
Andrew Charlton, Managing Director of Crawl Consultancy
Andrew Shotland, Founder of Tópico SEO Guide.
Areej Abuali, Founder of Women in Tech SEO.
Barry Schwartz, Founder of Search Engine Rountable.
Bastian Grimm, CEO at Peak Ace.
Benji Hyam, Co-founder of Grow and Convert.
Brett Tabke, Founder of PubCon.
Brie E Anderson, Analytics Consultant.
Brodie Clark, SEO Consultant.
Bryan Eisenberg, Author of Call To Action and Waiting For Your Cat To Bark.
Chris Green, Analytics Consultant.
Craig Campbell, SEO consultant at Craig Campbell SEO.
Dan Barker, CMO and consultant.
Dawn Anderson, Search consultant.
Dixon Jones, CEO at Inlinks.
Eric Wu, Partner, SEO @ a16z.
Frederick Vallaeys, Co-founder of Optmyzr.
Gianluca Fiorelli, International SEO consultant.
Glenn Gabe, SEO consultant.
Greg Gifford, COO at SearchLab and regional SEO expert.
Hannah Rampton, SEO and Data Consultant.
Itamar Blauer, SEO Director at StudioHawk.
James Norquay, Founder of Prosperity Media.
John Doherty, Founder of Credo and EditorNinja.
Jono Alderson, Independent Technical SEO Consultant.
Kelvin Newman, Founder of BrightonSEO.
Kevin Gibbons, CEO and Founder at Re:Signal.
Kevin Indig, Growth Advisor.
Kevin Rowe, Founder of PureLinq.
Kristopher B. Jones, Growth Advisor, Founder of LSEO.
Lee Odden, Founder of TopRank Marketing.
Corrida Infante, Senior SEO Manager at Sanity.
Lily Ray, Head of SEO at Amsive Digital
Ludwig Makhyan, Co-Founder of Mazeless.
Lukasz Zelezny, SEO Expert and Consultant.
Mark Traphagen, VP of Product Marketing and Training at seoClarity.
Mark Williams-Cook, Director at Candour.
Martin MacDonald, SEO Consultant, SEO Consultant.
Michael King, Founder of iPullrank.
Michelle Robbins, Decision Science Leader at LinkedIn.
Montse Cano, International SEO and Digital Strategy Consultant.
Mordy Oberstein, Head of SEO Branding at Wix.
Motoko Hunt, International Search Marketing Consultant at AJPR.
Nati Elimelech, Head of SEO at Wix.
Navah Hopkins, President at Navah Hopkins LLC.
Nick Wilsdon, CEO and Founder at Torque.
Noah Learner, Director of Innovation at Sterling Sky.
Olga Andrienko, VP of Brand Marketing at Semrush.
Paul Shapiro, Technical SEO and SEO Product Management at Shopify.
Pedro Dias, SEO Consultant at Visively, Ex Google.
Ross Hudgens, Founder of Siege Media.
Ron Lieback, Founder of ContentMender.
Ruth Everett, Technical SEO at SearchPilot.
Ryan Jones, Marketing Manager at SEOtesting.com.
Si Quan Ong, Marketing at Ahrefs.
Suganthan Mohanadasan, Co-founder of Snippet Digital & Keyword Insights.
Taylor Berg, Director of Growth & Web Strategy at Talkspace.
Tess McKeever-Voecks, VP of Operations at Tópico SEO Guide.
More resources:
---
Featured Image: Emre Akkoyun/Shutterstock